2019 NBA Playoffs Round 1 Preview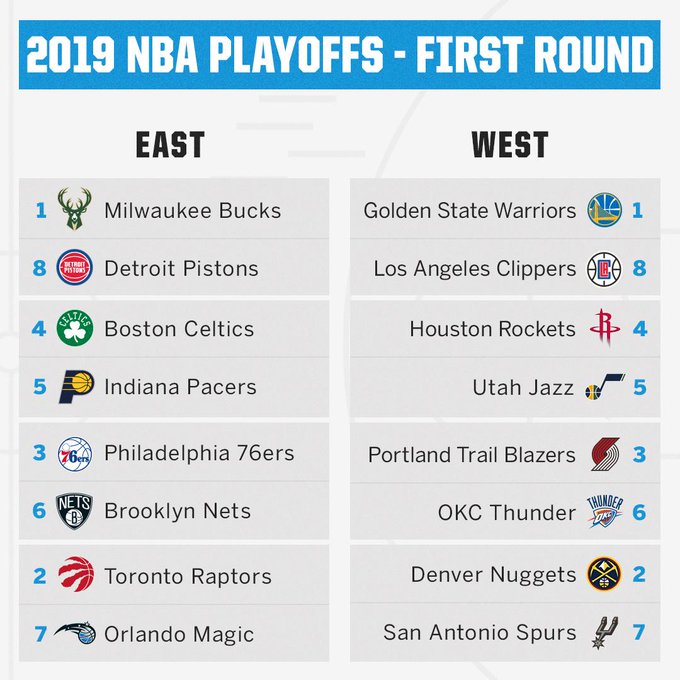 The anticipated NBA Playoffs are set and will begin this weekend as the Regular Season is finally over! Here's the Preview for every match up in the 1st round.
Milwaukee Bucks vs Detroit Pistons
1st vs 8th in the EAST. The only 60 win team in the league Milwaukee Bucks will seek to begin what they hope is a Championship run as they take on the very inconsistent Detroit Pistons squad who got into the Playoffs on the last day of the season.
Bucks
We're going to begin with the Bucks of course. They have had an unbelievable season so far led by an MVP Candidate Giannis Antetokounmpo, they reached 60 wins for the first time since the 70s and secured the best record in the NBA. Milwaukee haven't been successful just because of Giannis alone. They've built a deep team from the starting line-up to the bench they can go deep and the addition of the coach Mike Budenholzer has benefited them big time as the players have bought in to his system and have been able to achieve their best season so far as a group.
The Bucks have been an offensive powerhouse with the 4th best off rating, but what has been underrated about them is their defense, in fact they have the best defensive rating in the NBA and the commitment on both sides has led to great results as we've mentioned they have been the best team in the NBA by far all season long.
Entering this years Playoffs the expectations will be higher than ever in the Giannis era for the Bucks of course as this is the first time in a long time that they are legitimate title contenders. The keys for Milwaukee will be to not get complacent now in the 1st round and to overcome their inability to win playoff series as they have lost all 3 1st round series with Giannis so far in his career. Now of course, the Bucks are better than ever with Giannis and it's the first time that they enter the 1st round as the favourites during this decade so the chances of advancing are far higher. Injuries to Brogdon and Mirotic are a couple of concerns, but we've seen late in the regular season that role players like Sterling Brown, DJ Wilson, Ersan Ilyasova have the ability to step up and fit in for the injured guys so Milwaukee shouldn't miss these two that much until the later stages in the Playoffs if they get there and in the end they still do have Giannis, Middleton, Bledsoe and Lopez all available so it'd be very unlikely to see a drop in Milwaukee's play right now.
Pistons
Now let's look at the Detroit Pistons. They are the ultimate underdog in this series and the chances of them advancing are very SLIM.
The Pistons have been a very streaky team all season long. They started 13-7, then fell to 22-29 and then won 14 of the next 18 games to improve to 36-33 and essentially finished 41-41 barely finishing over the line to make the Playoffs thanks to 2 wins to end the season against Memphis and New York.
Detroit's issues this season has been lack of offense. Even with Blake Griffin having a career year overall including scoring, Andre Drummond being very good, Pistons just don't have enough scorers on their team and players like Reggie Jackson, Luke Kennard may have helped but they haven't been consistent and outside of Griffin and Drummond, Pistons just haven't had consistent scorers and have been a bottom 10 offensive team all season. However, the Pistons defense has been something that they could rely on this season with the 12th best defensive record in the league, Detroit have been able to get into the Playoffs.
The biggest concern for Detroit entering the Playoffs has to be the health of Blake Griffin. The star player has been dealing with nagging injuries during the past couple of weeks and was even forced to miss most of the Grizzlies game and missed the final game of the season against the Knicks which decided the Pistons Playoff faith due to left knee pains and his health is crucial because Blake has been the only consistent 25 ppg scorer and by far the best player on the Pistons as he does everything for them whether it's scoring, defending or playmaking. Although Pistons say he should be ready come Game 1 of the post season, whether he'll be 100% is another question. If Griffin isn't fully healthy then the Pistons really don't have a chance here considering it's slim even with Blake at 100%.
Regular Season H2H
Bucks have owned the Pistons this season by sweeping the season series 4-0 winning both home and road games. Bucks won 3 of those 4 games by double digit margins and only one was competitive which Milwaukee also won in Detroit by 3 points. Both Milwaukee's home wins came by 23 points. On average the Bucks won by a 14.8 point margin against the Pistons in these 4 games and defensively held them just under 100 points on average so Milwaukee clearly have been pretty much destroying the Pistons all season long so far which doesn't look good for Detroit entering the Playoffs.
What to Expect in the Series
Well, Milwaukee winning is what everyone probably expects and so do we. Milwaukee are just better in every aspect of the game, they have the best player in the series, they have home court, they have won way more games, they're deeper, they're better coached, they're better offensively and defensively and they owned the H2H record this season over Detroit. Not only that, we still don't know whether Blake Griffin is going to be fully healthy come playoff time and if Detroit's star man isn't at a 100%, then it's very likely going to be a breeze for Milwaukee. If Blake does get healthy then Detroit may steal one game at home but that's about as much as they'll do against the 60 win Bucks. Expect Bucks depth to prove to be too much for Detroit and Giannis to dominate the series which should essentially lead to a Milwaukee win in 4 or 5. If Blake isn't healthy, Bucks wins this in 4 with 4 dominant wins, if Blake is healthy then Detroit will snatch one but in the end the Bucks should dominate this series and make quick work of the Detroit Pistons because Pistons simply just don't have enough fire power to match Milwaukee here.
Boston Celtics vs Indiana Pacers
4 vs 5 Matchup in the east. Boston Celtics look to put behind what's been a disappointing regular season with another good playoff run as they take on the depleted but a tough Indiana Pacers squad.
Celtics
Well it may not have been the regular season that the Celtics expected, but they did make the Playoffs and should be considered as one of the top contenders to make it far despite not living up to expectations yet. Many expected Boston to grab 60+ wins and the 1st seed, however chemistry problems, certain players not living up to the hype and injuries have cause Boston to go 49-33 for the 4th seed. Now that record isn't bad, many teams would take 49 wins but for the Celtics considering they were expected to win over 60 games it just isn't good enough.
What went exactly wrong for Boston? Well Gordon Hayward has been very inconsistent, Jaylen Brown hasn't really taken a step forward after last year, Jayson Tatum has been inconsistent and has gotten worse after every month for some reason, Terry Rozier hasn't been very good and the last 3 named players were some of the best players in their last years run. Obviously getting Kyrie and Hayward back has taken shots away from the trio that helped Boston make the ECF and we've seen them play more iso ball than team basketball this season with Kyrie back so that could definitely be part of the reason why Boston haven't been quite as successful as they simply haven't been able to get their chemistry right and certain players are not used to the adjusted roles after being key players last year like Rozier, Brown and Tatum in the playoff run last year.
Looking at the numbers now, Boston have been top 10 in both offensive and defensive rating this season so from this point you could say well the Celtics have been pretty good still and yeah 49 wins is definitely not something to be brushed aside, it's still a pretty good win total. Celtics have always been elite defensively under Brad Stevens, it's just offense that's the problem sometimes as they seem out of sink especially when Kyrie Irving goes iso mode. Boston have had some very explosive offensive performances, but then there have been times where they haven't been quite as prolific so inconsistency is the word.
Boston's biggest strength entering this series and these playoffs is that they're very deep. Despite certain players not living up to the hype due to a reduced role this season, you still have to look at the Celtics as a team that have multiple players who can take over and win games. You have Kyrie who normally always balls out in the Playoffs and can give you 30 any night, but then players like Tatum and Brown who showed out last year and have the experience of a long playoff run, Gordon Hayward can give you 20+ any night and has been doing so to end the regular season which makes it seem like he's starting to get in his groove, you have Marcus Morris, Al Horford, Terry Rozier too who can score so depth is going to be Boston's biggest strength and because of it they simply cannot be underestimated in the Playoffs despite not living up to the hype in the regular season. They have depth and experience and that'll be key. Only worry is they will miss their heart and soul Marcus Smart for the first round for sure so somebody else will have to bring the toughness for the Celtics here.
To summarise the keys for Boston, they need to get others involved and not just let Kyrie run the offense every time. Players such as Tatum, Brown and Rozier need to find their magic that they showed last year and when Indiana try to make it gritty, Boston as a team need to fill the role of Marcus Smart and bring that toughness into this series which they'll likely be required to do. Boston finished the regular season playing good basketball and it's important for them to keep that level of play up, they can't afford to be inconsistent here because a few bad games and your backs could be against the wall.
Pacers
Indiana are really the underdog in this series and for one big reason. They just don't have their star player Victor Oladipo and that will likely cost them big time.
When you think about it the Pacers have done extremely well to win 48 games this season as they have missed Victor Oladipo for the large part of the season. Indiana's depth is something that has been their strength, their commitment to playing defense is their biggest strength (3rd in DEF RTG). Pacers are a tough, gritty team that gets after it and is the type of team you don't want to play against.
Indiana's biggest worry entering this series other than missing Oladipo is obviously their offense. Missing a 20 ppg guy who also play makes for others is a HUGE blow, it's their star man that is out and the Pacers depth and team work will have to come through for them in this series and players like Turner, Bogdanovic, Collison, Sabonis, Joseph, Evans, Matthews will all have to elevate their game on both ends even more if Indiana want to compete with the Celtics.
Another worry for Indiana is their struggles on the road this season, well actually since Oladipo went out as they weren't too bad on the road prior to that. Since Oladipo's season ending injury, Indian have been 5-13 on the road and had a 10 game road losing streak during this stretch so considering that Indiana will have to win at least once in Boston to have a chance to advance this is a serious worry for the Pacers as they just simply have struggled to win on the road without their star man.
To summarise, the keys for Indiana to win this series is their role players have to elevate their game, they need to show their depth, make it a very gritty contest to make it tough on Boston's offense and find a way to win on the road which they've struggled to do entering the Playoffs. It's going to be very tough for them to win this series, but with grittiness and belief they could do it for sure.
Regular Season H2H
Boston won the season series 3-1 this year. Indiana won the first meeting but Boston then went on to win the next 3. These teams faced off twice in the final 2 weeks of the season and Boston won both meetings at home 114-112 and in Indiana 117-97. It looked like Indiana just couldn't match Boston's offensive fire power without Oladipo. Celtics have had Indiana's number in these final 2 meetings and Indiana will have to find adjustments to find a way to compete with the Celtics because it currently looks like Boston are looking like the much better team.
What to Expect in The Series
We have Boston winning this series, but expect Indiana to give it a good go here even without Dipo. The difference in this series will be Kyrie Irving as he'll eventually is the closer that Boston have and Indiana lack. Expect a gritty contest between two of the best defensive squads. Marcus Smart being out should allow Indiana to make the series more competitive and they could take 1 or 2 games from this especially on their own home floor, but in the end Boston should be able to advance into the ECSF. We anticipate the Celtics to win this series in 6.
Philadelphia 76ers vs Brooklyn Nets
One of the top contenders in the East the Philadelphia 76ers take on a team that surprised quite a few in Brooklyn Nets in a 3 vs 6 match up in the East.
76ers
The expectations are about as high as it's been for the 76ers since their run to the Finals in 2001 this year and understandably so! Elton Brand has built quite the powerhouse this year in Philadelphia by making moves for top level players like Tobias Harris and Jimmy Butler to pair up with Ben Simmons and Joel Embiid and with this big 4 anything less than a ECF appearance would be considered as a disappointing season for the Sixers.
Sixers ended the season 51-31 this year for the 3rd seed which is one win less than last year, however the team has definitely gotten better overall when you look at it and if not for nagging injuries for Joel Embiid which we'll get into later, they definitely would've gotten a few more wins.
Many people have been concerned with the lack of games that Harris, Butler, Simmons and Embiid have played together which has only been 12 and some would say that the chemistry may not be there, but if we were to look at the 76ers when all of them play, they have been great at 10-2 when all 4 of these guys play. Now come playoff time, it may prove to be an issue as these four haven't played a lot of games together but looking at the small sample size it's clear that the 76ers have played very good basketball at full strength since acquiring Harris.
Entering the Playoffs there will be a couple of concerns for the Sixers however. Despite having one of the most powerful teams in the league, their main star Joel Embiid has been dealing with nagging injuries ever since the allstar break and is currently questionable to play Game 1 so who knows if he's fully healthy right now and without Embiid we've seen Philadelphia struggle this season quite a lot so that definitely is something the 76ers need to monitor and make sure that their main guy can get healthy enough to cause problems for teams. Another concern is road struggles as 76ers are 20-21 this season on the road. Now they do have home court advantage so it may not be quite an issue against Brooklyn, but for later rounds it could come back to haunt them.
The keys for the 76ers to win this series is make sure Embiid is healthy, get enough bench production with guys like Mike Scott, Marjanovic, Jonathon Simmons, TJ McConnell who all have the ability to contribute, protect the home court and make sure the chemistry is at an all time high because they'll definitely need it against this dangerous Nets squad.
Nets
One of the most surprising teams of the season for sure! Brooklyn made the Playoffs for the first time since 2015 and finished above .500 for the first time since 2014. This young squad were not expected to make the Playoffs but the improvements of players like D'Angelo Russell, Caris LeVert, Spencer Dinwiddie, Jarrett Allen and many more has made Brooklyn quite a tough team. Not only are they talented, but their togetherness, great chemistry and hard work has got them where they and after starting the season 8-18, they managed to finish 42-40 for the 6h seed.
Brooklyn Nets biggest strength as mentioned is their chemistry, this team have been playing for one another and that type of asset as a team is huge if you want to succeed which allowed Brooklyn to overachieve their expectations this season. Nets have been a very tough team to play against for everyone this season whether it's bad or top tier teams, Brooklyn have given everyone problems and we do think they could cause the 76ers some problems. Nets earned their way into the Playoffs by beating some really good teams to end the regular season like Milwaukee, Boston, Indiana.
Brooklyn have good bench depth, they have a ton of good scorers and don't lack shooting and when they meet the Sixers guys like Russell, Harris, Dinwiddie, LeVert will have to turn it up, they've all had great seasons overall but especially scoring wise.
The worry for the Nets entering this series is lack of experience. None of these guys have really been here before so the Playoff pressure will be something new to them which will be very interesting to see how they deal with it. The Nets aren't expected to win this series, but given how tough they compete, how well they've played to end the season and the never quit attitude could definitely make them a threat to the Sixers. D'Angelo Russell is a player we're all looking forward to play after making incredible strides as the star player this season, he could have a very BIG series.
The keys for Nets is don't let this moment get too big, enjoy the Playoffs continue to compete, play hard and make sure to make it a gritty series for the 76ers. Brooklyn may not have the talent to match the 76ers, but one thing they can do to match the Sixers or better them at is playing hard and that's something the Nets have relied all season on. Don't expect Brooklyn to be a pushover here.
Regular Season H2H
It's been a tightly contested series in the Regular Season as these teams split it 2-2. Brooklyn won the 1st meeting 122-97, Sixers responded with a 127-125 win then Brooklyn won 127-124 and Sixers won the most recent meeting a couple of weeks ago 123-110. We've seen close games, a couple of blowouts so to sum it up nothing has separated these squads in the Regular Season. If we get a Playoff series to be like the Regular Season series then it could definitely turn out to be a classic. Brooklyn's toughness has caused the 76ers problems in the Regular Season, will they do it again in the Playoffs? We'll have to wait and see but the H2H record definitely should give Brooklyn hope at an upset.
What to Expect in the Series
We have the 76ers winning this series. Joel Embiid's health now is very important and could decide which way this series will go. If Embiid isn't 100% then Brooklyn have a shot, but if Embiid is fully healthy then expect the Sixers to have an easier series than it could be. It won't be a sweep, Brooklyn should definitely grab at least one game, two at maximum but in the end the 76ers will have too much fire power offensively for Brooklyn to handle, plus Sixers do have home court advantage, more playoff experience and it should prove to be enough for the 76ers to win. Brooklyn will make these games tough, but we anticipate the 76ers to come out and win the series in 5 or 6. Embiid may not be fully healthy, but having Butler, Harris, Redick, Simmons should still more than enough for the 76ers to dispatch the Nets and make the ECSF.
Toronto Raptors vs Orlando Magic
Title contending Raptors will begin their Playoff run as they take on another surprise team in the East, the Orlando Magic in a 2 vs 7 match up
Raptors
The expectations for Toronto are higher than ever this year. With LeBron James out of the east, it seems like the chance has finally come for Toronto to finally get into the Finals! Raptors have one of the deepest rosters, arguably their best ever roster led by Kawhi Leonard who arguably is the biggest star they've ever had entering the Playoffs and yes that includes VC.
Raptors have had a solid season going 58-24 for the 2nd seed despite missing players such as Kawhi, Lowry and VanVleet for multiple games this season. The Raptors depth has been a huge key as said before this year as when certain stars went out, others came through and the biggest revelation this year for Toronto has been the play of Pascal Siakam who has arguably been the most improved player this season.
Raptors have achieved success because they play both ends, they're 5th in OFF RTG and DEF RTG and with those stats the success was always going to come.
Another strength for Toronto entering the Playoffs is their home court performances. They're 32-9 at home this season which is tied 3rd best in the NBA and entering this series having home court is going to be a huge advantage. Raptors will enter the Playoff playing red hot basketball having won 7 of 8 so playing good basketball and being elite at home should get Toronto off to a solid start to the series.
There is a couple of worries for the Raptors. Now we know their star man now is Kawhi and not DeRozan, but the recent playoff disappointments is something that must be looked at because the rest of that team is still very similar to the past years. Raptors will have to find ways to overcome their playoff nightmares and a good 1st round series against Orlando could be very helpful.
The keys to this series is to just play their basketball. Toronto need to continue to be solid offensively and defensively and if they stay healthy there shouldn't be an issue for them in advancing to the next round. Raptors simply have too much talent for their opponents so if they just play their game, they'll be fine.
Magic
Orlando have been a very big surprise this season finishing above .500 and making the Playoffs for the first time since Dwight Howard played for them in 2011-12.
Orlando have achieved this success for many reasons. They have managed to stay healthy this season and unlike last year when players went down to injuries, they didn't have this issue this season which has allowed them to have a lot of success. The growth of Nikola Vucevic has been especially huge as he turned himself into an all star this year.
Orlando are kind of like Brooklyn, a tough gritty squad who have been able to cause problems for everyone this year. Orlando have been one of the best defensive squads in the NBA with the 8th best defensive record and despite being suspect offensively (22nd best), their defensive has helped them get into the Playoffs.
Another reason why Orlando got into the Playoffs is they have solid scoring production off the bench especially in Terrence Ross who has been simply sensational this year as a 6th man and has had some of the most explosive performances off the bench this year which has helped them win certain games.
Orlando's protection of their home court lately has also been a huge strength. They won 9 straight, 14 of last 15 at home to end the season so if Orlando were able to snatch home court from Toronto, that could prove to be huge because at home the Magic have been near invincible in the past couple of months and with such strong home court they could for sure cause the Raptors some problems.
Lack of experience is a negative and lack of offensive fire power is definitely a worry for this series for Orlando which is why they're tipped as massive underdogs to win the series. The chances are slim, but for Orlando making the Playoffs alone is already a great season and expect them to give everything they have. Expect Orlando to play gritty basketball, be very tough at home and in the end whether they'll win or lose this franchise can definitely be proud of what they've achieved.
Regular Season H2H
Orlando have cause Toronto problems this year. The series in the regular season ended 2-2 and both Orlando wins came by double digits whereas Toronto only had one of such and the other game was only won by Toronto on the buzzer beater. So if you look at the Regular Season, you could make a case that Magic have had Toronto's numbers. Orlando's toughness is definitely something that Toronto had problems with and it's something Orlando have to bring in the post season if they want to compete with the contending Raptors.
What to Expect in the Series
We have Toronto winning this series in 5. The reason why is the Raptors will prove to have too much squad depth, they'll protect the home court and steal one in Orlando whether it's G3 or G4. Orlando's grittiness will get them one game, but that is as much as they'll get. Yes Orlando caused Toronto problems in the Regular Season, but the Playoffs is a different beast and given Toronto's experience in the Playoffs and the fact that they're simply better we anticipate them to make quick work of Orlando. There'll be some close games, but in the end Kawhi Leonard will be the difference in those so yeah Raptors in 5.
Golden State Warriors vs Los Angeles Clippers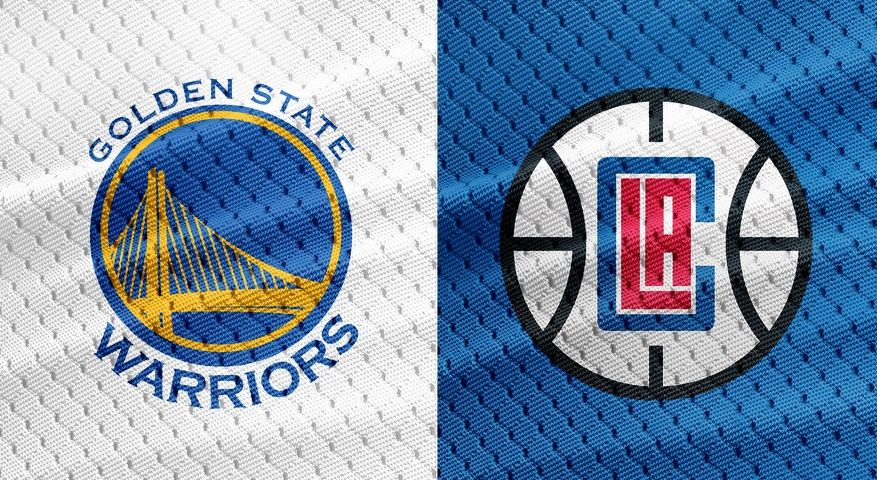 Now onto the Western Conference where the defending champions and title favourites Golden State Warriors begin their quest for 3 peat in a 1 v 8 match up against the surprise team LA Clippers.
Warriors
It's the same old story with the Warriors. They're the clear and by far favourites again. Led by 5 all star level players, the Warriors have 3 peat on their minds and it seems like they're primed for another great run this year!
Warriors finished the season 57-25 which is the lowest win total in the Steve Kerr era, but injuries, players resting, some games where the Warriors just weren't up for as they don't take Regular Season as seriously anymore has caused them so drop more games than some would expect. Now that the Playoffs will start, expect Golden State to go in full Playoff mode and play their best basketball.
There really isn't much else to say about Golden State entering these playoffs. They are clearly the best team on paper, the only worries that their fans should have is health. Steph Curry did pick up an injury before the Regular Season ended, but is expected to play but even w/o him being 100% Golden State should take the Clippers out. Health is important because if Golden State stay healthy then it's highly unlikely that anyone can take down a line-up of Curry Klay KD Draymond and Cousins. Another worry is effort, Golden State have had games where effort wasn't there, but that's more of a regular season concern. Don't expect any complacency come Playoff time, but if there was some then that's Warriors themselves to blame. Warriors will only lose if they beat themselves here, but if they put in the effort and stay healthy, they will be just fine.
The keys for this series to summarise are stay healthy and play high intensity basketball. If Warriors do that, they should be able to make quick work of LA.
Clippers
Clippers have surprised quite a lot of people this year making the Playoffs. After trading Tobias Harris, many expected LAC to miss the Playoffs but instead they managed to elevate their play and finished 48-34 for the 8th seed.
Clippers have made the Playoffs without a single all star, however what's got them here is their chemistry and depth. Clippers are a very together team, they have a mix of good players like Gallinari who can give you 20 a night, a gritty player in Beverley, nice young players like Zubac Shamet and Gilgeous-Alexander and arguably the best bench in the league led by Lou Williams and Montrezl Harrell who are both 6th man of the year candidates, Lou Will being the top candidate and not to forget they're coached by one of the best coaches in the league in Doc Rivers. Clippers may not be a team led by superstars, but that is one fun team simply due to the fact that they are together and play for each other and thanks to that they have been able to smell success all season.
Entering this series, nobody expect the Clippers to advance, let's be honest they are facing arguably the greatest team ever, however for the Clippers it's important to just continue to play their basketball. They may not have the fire power to match the Warriors, but their team work and hard play could definitely help them get them far and maybe they could steal a game or two as unlikely as that may look. Clippers will require a lot of luck if they were to give Golden State a serious test in this series, but don't expect them to lay down just because they are the ultimate underdog here.
It's hard to name any specific keys for the Clippers to win this series because the chances are so slim, they really just have to hope and pray. Clippers just got to do what they have been doing all season and see where that gets them, maybe the Warriors will get too complacent and that could open the Clipps the door, but it's quite unlikely so for the Clippers they need to go out enjoy and see how far it'll take them.
Regular Season H2H
Clippers did manage to snatch one game from the Warriors this year but Golden State ended up winning the series 3-1, plus that one game was when Steph Curry was out. Warriors won the last 2 meetings against the Clippers with a whole big 5 available and they dispatched them quite comfortably in these two games at full strength 112-94 and beat them just last week 131-104. Warriors have had Clippers number for many years now and this year has been no exception. It's clear that Golden State have simply got too much fire power for the Clipps.
What to Expect in this Series
Unless Golden State get too complacent, they should be able to sweep the series. Warriors as mentioned have way too much talent and shouldn't be wasting their time in this series. Clippers at best could steal one game but that only happens if Golden State takes the foot off the pedal for one of the games, however if the Warriors perform at their high level which they tend to do come Playoff time, they'll have a comfortable 4 game sweep. Warriors are simply better on both ends of the floor and they should waste no time here as there are tougher opponents waiting for them in the future rounds and they definitely don't want the threads of the tires to wear off because they take too long to beat the Clippers. So that's why Warriors in 4.
Houston Rockets vs Utah Jazz
A very interesting 4 vs 5 match up as the Houston Rockets who are one of the top title contenders take on the Utah Jazz who will hope to pull off a 1st round surprise again this year.
Houston Rockets
Surprisingly, Houston managed to fall to 4th seed in the final week of the season, but even with being 4th, they without a doubt are the biggest threat to Golden State this season.
Rockets managed to finish 53-29 despite only starting 11-14, missing Chris Paul early in the season with injuries and not getting him to full health really until February, they had injuries to Gordon, Capela too and even with all of that, Houston managed to win 53 games and why? Well James Harden has put together a historic season averaging 36 ppg and dropping NINE 50 pt games.
Now Houston have gotten finally healthy and have been arguably the hottest team since allstar break with a 20-5 record in last 25 games and with Harden putting a season like he did, Paul healthy, improved depth the Rockets seem to be primed to make another long playoff run and finally capture the Championship.
There really aren't many weaknesses when it comes to the Rockets. They are hungry, they're elite, they have one of the best home court and they're healthy entering the Playoffs. Now the health of Chris Paul is something that should always be a worry and despite him being back to normal now, he has had some Playoff runs cut short with injuries that had cost his teams, most recently for the Rockets last year when they went up 3-2 against GS and lost in 7 after CP3 went out. Paul's health will determine a lot for the Rockets and if he stays healthy they'll be very dangerous and will go far, if he gets hurt again that would likely ruin their season. James Harden also has to live up to his regular season play in the Playoffs. He's had great playoff games before, but we all know he tends to have bad disappearance acts too. Harden MUST continue to perform at the same high level as he did all season long. If Houston can keep healthy and Harden doesn't drop his performance levels this team is going to be the biggest threat to Golden State's 3 peat chase and should absolutely beat Utah despite them being a tough opponent.
So for Houston to summarise the main keys is be healthy, especially CP3 and James Harden must live up to his Regular Season play. Protecting home court is also important considering winning in Utah is very tough. We know the hunger is there and effort will never be a problem for the Rockets and if they achieve these keys they will win this series and will definitely have a LEGITIMATE shot at the title.
Utah Jazz
Utah have yet again finished the season playing red hot great basketball just like last year after being inconsistent for the 1st half. Jazz ended up bettering their win total of last year (48) with 50 wins this year for the 5th seed and have finished the season playing great going 13-3 in last 16 games so just like the Rockets they're pretty hot right now.
Now this is match up that Utah could've definitely done without as Houston are literally the last team you want to face in the 4/5 match up, but Utah will have to rise to the challenge and look for revenge for last year when they lost in 5.
Utah this season have definitely improved as a team and their success has come because guys like Gobert, Mitchell have continued to develop and have taken that next level, plus they've been healthy all year long. Utah are one of the best defensive teams, in fact 2nd best in DEF RTG in the NBA so they could potentially make it tough on Houston's offense which is going to be very important for Utah as Rockets are very explosive. Utah have also got great depth, they're even deeper this year with Korver on the squad and they haven't lost any key players from last year so overall looking as a team, Utah are definitely better and should pose Houston a bigger challenge than they did last year.
Utah have yet again been elite at home going 29-12, they have one of the toughest home courts in the league, but they are going to have to win in Houston if they want to win the series which they did manage to do last year before dropping back to back home games and essentially losing in 5. If Utah do snatch the home court from Houston, their home court could definitely prove to be crucial in the series.
The biggest concern entering this series is health of Ricky Rubio. Last year we saw how it affected Utah when Rubio got hurt and couldn't play against Houston. Rubio is very important for Utah in running the show and him being out could be a huge blow. Now Utah do believe he will suit up and be ready to play, but whether he'll be 100% is another question. The Jazz will absolutely need Rubio to play in this series if they want to have a shot because if they can't have their main point guard, then it'll be an issue against a team like the Rockets.
The keys for Utah to win this series is they will have to find a way to limit Harden and Chris Paul's productivity on offense. It'll be insanely hard to stop these two, but Utah have one of the best defensive teams in the league and they are a rare team that are equipped to at least sort of neutralise Houston's powerful offense. Utah must win all of their home games because if they drop one, all of a sudden they'd have to win twice in Houston and let's be fair that's very unlikely. Mitchell must live up to his last year's play and Ricky Rubio HAS to be healthy to open up the offense for them. There are a lot of keys for Utah, but that's how much it'll require if they want to knock off the elite Rockets team. It really is unfortunate that the Jazz have to face Houston in the 1st round after having such a solid season.
Regular Season H2H
The regular season series ended up being a split 2-2 this year. Utah won the first two but that was when Houston were struggling in the early season. After that the Rockets responded with back to back H2H wins of their own and most recently dismantling the Jazz 125-98 in Utah which was one of their more impressive wins this season considering it was in Utah, they blew them out and they weren't fully healthy. The match ups have relatively evenly matched, both teams got one blowout and one close win so looking at this season, there hasn't been much that has separated these squads, but most of the meetings did happen when Houston were still struggling in the early season when they weren't healthy so it's quite impressive that the Rockets have been going up even with Utah despite not being healthy in these H2H match ups.
What to Expect in this Series
Expect a closely matched series here. We expect Houston to come out on top eventually in 6 games, but Utah are a solid team that won 50 games and they are no pushover. Utah are better this year than last year so it only seems normal that they'll give Houston a tougher series than they did last year which went 5 games. We anticipate the first 4 games to be split with each team protecting home court, but Houston will eventually win games 5 and steal game 6 in Utah and the difference will be Harden and Paul. The backcourt of these two are more determined than ever and are playing on such a high level right now that it just seems too unlikely for them to get bounced in the 1st round. Expect a lot of close games in this series, but in the end Rockets are just a little better, plus Ricky Rubio potentially not being 100% will cost Utah.
Portland Trail-Blazers vs Oklahoma City Thunder
It's a 3 v 6 match ups, but man is it an evenly contested one. Two teams who have had their 1st round Playoff demons in recent years in Portland and OKC, but one of them will finally get to overcome them this year.
Trail-Blazers
It's been their best season since 2015 for Portland as they have reached their highest win total of 53 wins since LaMarcus Aldridge left. Portland this season have definitely improved and the reason for that is they simply improved their bench depth. The team is still led by Lillard and McCollum, but depth additions such as Enes Kanter, Seth Curry, Jake Layman blossoming into a solid role player have definitely helped the Blazers get better. Bench is something Portland have lacked in recent years, but they fixed it this year and it led to a very successful year.
Portland are entering the Playoffs as one of the hottest teams in the league winning 14 of final 17 games. They have been playing extremely good basketball and are looking to finally overcome their 1st round Playoff demons. Portland have home court in this 1st round which could prove to be pivotal as the Blazers have been the 2nd tied best home team in the West with a 32-9 record also winning 18 of final 20 home games which is something that could prove to be crucial for them in this series as they simply rarely lose at home and if they win one on the road, all of a sudden they'd have to lose 2 at home so home court is their biggest strength entering this series.
However, there are a few worries for the Blazers. They have had some serious playoff disappointments lately especially last year when as a 3rd seed like this year they were swept in the 1st round and Damian Lillard is someone that will be seriously looked at this year after disappointing last year. Lillard will be expected to deliver this year as his recent Playoff performances have been massive disappointments. Furthermore, injury to Jusuf Nurkic and him being out could be another worry, obviously Kanter has been great starting for them, but now Portland will be missing depth at Center and if Kanter struggles, they'd all of a sudden be missing Nurkic big time especially in a physical battle that OKC will bring which by the way has caused Portland problems this season as they haven't had success against Oklahoma but that's for later.
To sum up the keys for this series for Portland, they MUST protect home court, they have one of the best home courts in the league and they have to make it be the case in the Playoffs unlike last year when they dropped the ball losing both home games to New Orleans. Lillard has to have a bounce back performance from last year, so just like James Harden he needs to translate his regular season play into the Playoffs, their depth will be a massive key considering that Nurkic is out, Kanter needs to continue to play at a high level, bench players like Curry, Collins, Turner will have to provide good minutes too and the final key is Portland must be physical, they are coming up against one of the most physical teams in the league in OKC and Portland will have to match that physicality in this series.
Oklahoma City Thunder
It's been a crazy season for Oklahoma this season. Finishing 49-33 for the 6th seed OKC have earned themselves a match up with a division rival Portland. OKC have been a streaky team this season, sometimes looking like world beaters, sometimes looking like a non playoff team, but they have entered the Playoffs on a 5 game win streak so they're pretty hot right now.
The story of OKC season has to be Russell Westbrook and Paul George. Russ once again averaging a triple double while Paul George putting together his best season of his career though he's dealt a lot of the post all star break with nagging injuries, PG seems to be primed to have a solid Playoff run.
Entering this series, OKC will have to find a way to win in Portland if they want to advance and their road record is tied 2nd best in the West at 22-19 so that's something OKC will have to look at and say "we can do it". Oklahoma have been a very gritty team, one of the best defensive squads in the league (4th in DEF RTG) and led by 2 explosive stars offensively in Westbrook and George, you'd have to say the Thunder are going to be a very dangerous 6th seed entering the Playoffs this year.
As there are strengths, there also are weaknesses for Oklahoma. They are simply very inconsistent this season so we don't know what Thunder to expect, will it be the team that looks like a contenders or a team that don't even look like a Playoff team and that's a concern for Oklahoma fans for sure. The health of Paul George is another concern as he has aggravated his shoulder injury although he should be able to play, it's just whether he'll be 100% is the question. Furthermore, OKC have had some serious playoff disappointments over the years, especially when KD left and especially last year when they blew it to Utah in the 1st round. Oklahoma have not been able to get out of the 1st round since KD left so that's something they will have to overcome.
Keys for OKC is play with maximum effort, make it physical on Portland, hope Paul George is 100% healthy and can play at his MVP level and just don't let Russell Westbrook try play full hero ball which is taking 35+ as it has cost them many times over the years, they need to play as a team and they have to find a way to steal at least one game in Portland which will be extremely hard, but they've done it already this season. Defense on Lillard and McCollum will be a massive key too considering they are Portland's biggest threats on offense, if they can neutralise one of them at least, OKC should have a good shot to win the series like Pelicans did last year against Portland.
Regular Season H2H
Despite being the lower seed, the Thunder have had Portland's number this year SWEEPING the season series 4-0. The match ups have all been relatively close, one of them went to OT, but OKC always found a way to come out on top. Paul George has been playing extremely well against Portland scoring 37 36 47 and 32 pts in these match ups. OKC have even managed to win in Portland both times and have inflicted Portland 2 of their total 9 losses at home this season so it is pretty safe to say that Oklahoma have the mental edge heading into the series.
What to Expect in this Series
It definitely will not be a sweep like the Regular Season, but OKC is our first pick to win as the lower seed. Why? Well Oklahoma's toughness will prove to be too much for Portland. Nurkic being out will also be a huge key for the Blazers and although it may not have affected them yet, in the Playoffs you do need all of your best players and Nurkic being out that's the 3rd best player that Portland will be missing and Enes Kanter will get bullied by Steven Adams throughout this series.
Furthermore, Russ and PG are better playoff performers than Lillard and McCollum in our eyes and they will outplay the Portland's star duo like they've done all season long which will essentially define the series. Furthermore OKC are more equipped to guard Portland's star guards than Portland are to guard OKC's stars, OKC are simply a mismatch for Portland here.
Now Portland do have the home court advantage and they are elite at home, but Oklahoma are also a very good road team plus they normally tend to play very well against top teams this year (4-0 vs POR, 4-0 vs UTA, 3-1 vs HOU) so you also have to look at that and say well OKC tend to turn it up against the elites and when they turn it up they're ELITE. OKC have also shown they can win in Portland and if they steal one they should be able to take the series by the scruff of the neck. We don't believe in Portland winning in Oklahoma and with OKC taking one in Portland they'll eventually go on and win the series in 6 games. Expect Westbrook and George to put together a very good Playoff series thought George's injury is a little concern, but we believe he'll be ready
Denver Nuggets vs San Antonio Spurs
Youthfulness vs Experience is a great way to describe this series. The young rising team in Denver take on the experienced, a team on a legendary 22 consecutive Playoffs made run the San Antonio Spurs in something that is a rare 2 v 7 match up that is expected to be so evenly matched.
Nuggets
It's been quite a season for Denver. After missing the Playoffs on the last day last season, Denver bounced back in style this year winning 54 games and achieving the 2nd seed which has been quite the improvement by them.
Nuggets are still a very young team, but this year it seems like they have elevated themselves into a contending team. There are many reasons why Denver have been so good this year, mainly they have incredible amount of depth in every position, they have a great starting line-up and they have an extremely productive bench with players like Monte Morris, Malik Beasley turning themselves into top role players, plus they have multiple other solid role players like Mason Plumlee.
Homecourt has been another MASSIVE advantage for Denver. Playing in the altitude Denver have taken advantage of opponents going 34-7 at home which is NBA's best and having home court advantage in the 1st round could prove to be massive for the Nuggets as they look to get a first Playoff series win since 2009.
However, despite having their best season since 2013, being deep, having one of the best home courts and having very good young players like Jokic who is a star, there are certain things that are concerning for Denver. Their level of play has fallen towards the end of the regular season as they went 5-6 in final 11 games and they have absolutely no experience other than Millsap in the Playoffs so it'll be interesting to see whether the moment doesn't get too big for them. Furthermore, Denver are a very suspect road team (20-21) so if they were to lose home court it'd be tough to get it back especially against the Spurs. These weaknesses may not overcome the strengths, but they are something Denver have to improve on especially against a team like the Spurs who are dangerous.
The keys to win this series are of course don't let the moment get too big for them, Denver HAS to protect home court because if they lose at home, it would be extremely tough to get it back against the Spurs who themselves are elite at home. Denver needs to get off to a strong start in the series and take these first home games and make sure the bench depth continue to perform at a high level as they'll need it against a deep team in Spurs themselves.
San Antonio Spurs
22nd time making the Playoffs in a row. What an incredible record by the San Antonio Spurs who are just not going away. Coached by Gregg Popovich, led by 2 allstars in Aldridge and DeRozan, the Spurs are going to be a VERY dangerous 7th seed this year and facing Denver they will definitely fancy their chances.
The Spurs ended up winning 48 games and despite a slow start to the season when they went 11-14 in first 25 games, the Spurs have turned their fortunes around and are looking like a team that could go very far in the Playoffs this year.
Spurs have also benefited mostly from one of the best home courts going 32-9 at home this year which has been crucial in them making the Playoffs yet again. DeRozan and Aldridge have both had solid seasons and their bench as usual has been productive. Spurs are a deep team and despite not having as many wins as Denver, you could say they are just as good as them it just took them longer to find the chemistry together early in the season which was essentially why they didn't win more games.
This season strangely Spurs have been a more offense reliant squad as they have the 6th best OFF RTG whereas unusually they're just 20th in DEF RTG and that's rare considering Pop Spurs would normally be one of the best defensive squads. Spurs are very good offensively because they have 2 20 ppg scorers and not only that they have a various number of shooters like Mills, Belinelli, Bertans, White, Forbes, Gay can also shoot so they have multiple ways of beating you on offense, but defense is something that could be a worry against Denver who are a good offensive team themselves.
Now going into the weaknesses for the Spurs has to be their road struggles. Spurs usually a good road team haven't been quite as good the past couple of years and this year they've not been good just going 16-25 and considering that they'll be forced to win at least once in Denver if they want to win this series, that is a concerning road record. Sure if they steal one in Denver somehow all of a sudden the tables are turned and Spurs would become the favourites as they're very unlikely to lose at home themselves, but Spurs DO have to find a way to grab a road win. Furthermore as mentioned defense is problematic too, just 20th in DEF RTG won't get it done against Denver who have multiple players who can score themselves.
Entering this series, the keys for Spurs to win is they have to get better at defense as they are facing one of the best offensive teams, their ability to road games has to improve and maybe come Playoff time their experience could prevail over Denver's youthfulness and they may snatch one game from Denver and take the home court advantage. Furthermore, DeMar DeRozan has to live up to his regular season play. We've seen him have his Playoff demons in years past and he can't choke again this year. Hopefully for DeMar the change of scenery will also bring more success in post season. Finally, Spurs need to knock down shots, their 3 point shooting has been one of their most lethal weapons and they need to continue to knock them down, if they do that then Denver will be in trouble.
Regular Season H2H
To no surprise, the H2H has been a split 2-2 this year and every game was won by the home team. 3 of the 4 games were close with one exception where Denver beat San Antonio by 28 in the most recent meeting. Nothing has really separated these teams during the Regular Season, they were evenly matched and expect more of the same come Playoff time.
What to Expect in this Series
We just praised Denver's home court advantage and how important that will be. However, Spurs is our pick to win this series. San Antonio's experience and Gregg Popovich being the great coach that he is will get them out of this series as the winners. Spurs have more than enough fire power to come to Denver and steal a game and they'll do that whether it'll be Game 1 or Game 2. From then on we're looking at the home team to win every single remaining game and that should lead to Spurs winning the Series in 6. Denver have had a great season, they're a fun young team but their time hasn't come just yet and this new Playoff atmosphere will get to them. The veteran team led by one of the greatest coaches for sure have one final long Playoff run in them so that's why we're picking the Spurs to win over Denver.
Official Predictions of Round 1
Bucks 4-1 Pistons (4-0 if Blake not 100%)
Celtics 4-2 Pacers
Sixers 4-1 Nets (4-2 if Embiid not 100%)
Raptors 4-1 Magic
Warriors 4-0 Clippers
Rockets 4-2 Jazz
Trail-Blazers 2-4 Thunder